A common trait among most businesses these days is to have a website. Not only does it serve as a way of marketing and advertising but it also allows for practical information to be displayed as well such as menus, prices and directions.
Even though there are an abundance of themes that are aimed at restaurants there are theme developers which have created WordPress themes for café's and eateries in general.
However, what should a good café WordPress theme have?
The themes that we have picked out below promote the very best features of a food and drink focused WordPress theme.
This includes a clean design so that the visitors' eye is focused on the content and not on an elaborate and complicated design. Indeed, this is a key facet of many WordPress themes and displaying content intertwined with some images with keeping the basic design minimal is important.
With café themes in particular light colors are preferred and designs that leave a significant amount of space in between content work best. When someone visits a restaurant or café site then they want information fast and the theme has to provide this.
Finally any WordPress theme that is aimed at customers of café's, baristas, fast food outlets or restaurants should be responsive.
While it is not an integral part of the theme it is assumed that many people will look for information on café's on the move and usually this means with a smartphone or tablet device. A responsive ready theme provides a much better layout for the mobile user although it is not absolutely necessary by any means.
The themes that we have chosen in the list below are a usual mix of free and premium themes and we have provided links to any available demos and the theme itself.
If you need a theme for a café or any type of food and drink establishment then read on…
Bakery Cafe by FlashMint
Bakery and cafe theme with a clean design and bright, breezy colors.
Barista by JoomlaXTC
Built with the XTC framework, our templates provide dozens of parameters for extensive customization with virtually no coding needed.Installs a full WordPress website containing demo content, styles and preconfigured widgets ready to get you going in minutes.
Barista Coffee by iThemes
Get your business on the web fast with this premium WordPress theme featuring an image rotator, multi-level dropdown menus, and 4 PSDs for customizing.
Cafe by Cowboy
The net-styled black background gives a chance to show off all the advantages of orange and white elements combination. This gorgeous template carries big fonts, back-to-top button, three-part content area and the main social media buttons for better promotion.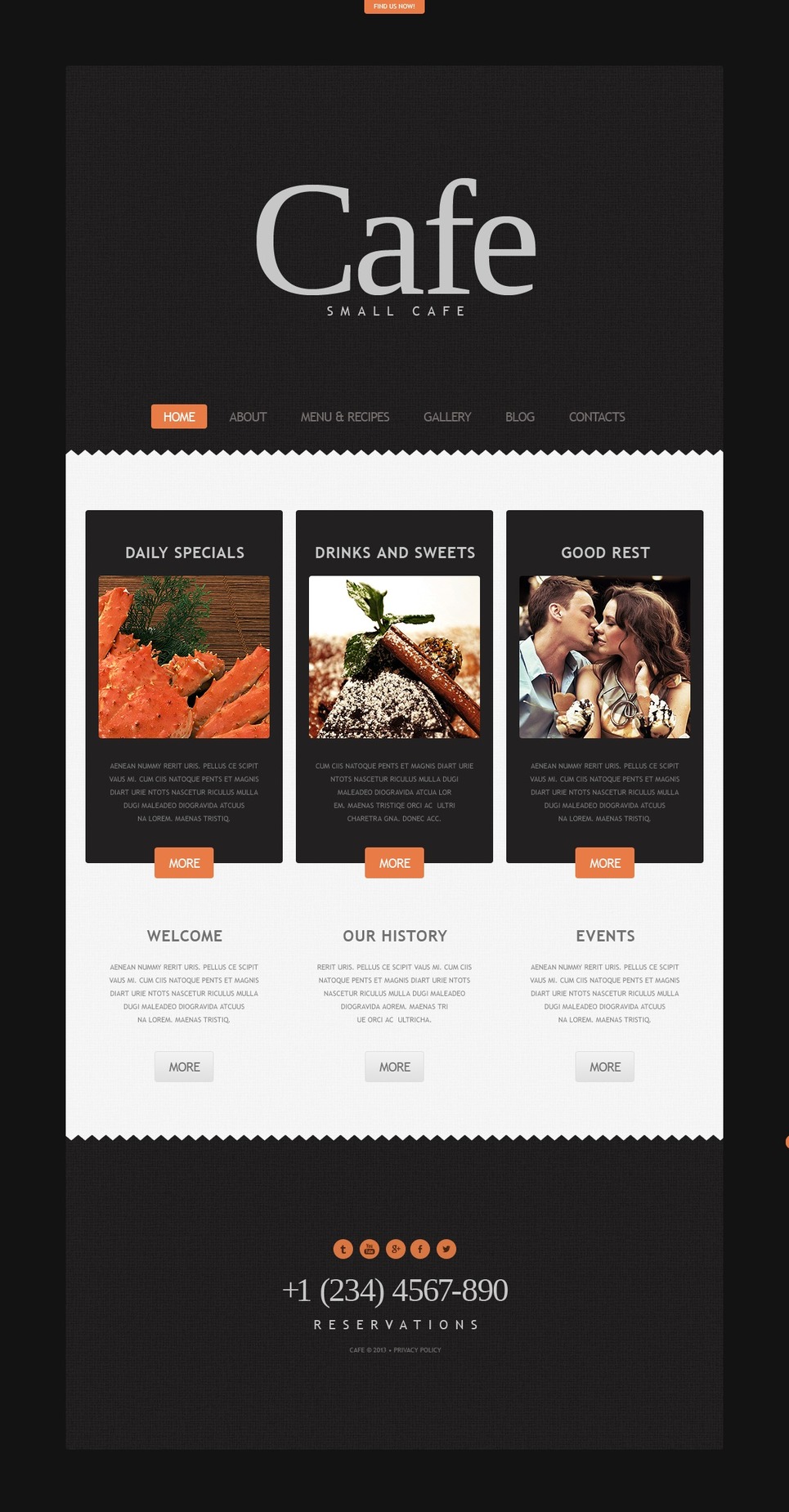 Café with Elegant View by Cowboy
Elegant flat design, delicious illustrations, pretty colors – everything of these is combines in this template to lead your café to success. Practice shows that cafés promoting themselves on the web has more clients, than those which ignore web communication. Be the first category. Also note, that there is nothing extra on this template the simple structure will motivate visitors to know more about your café. And then, they will have no choice than become your client!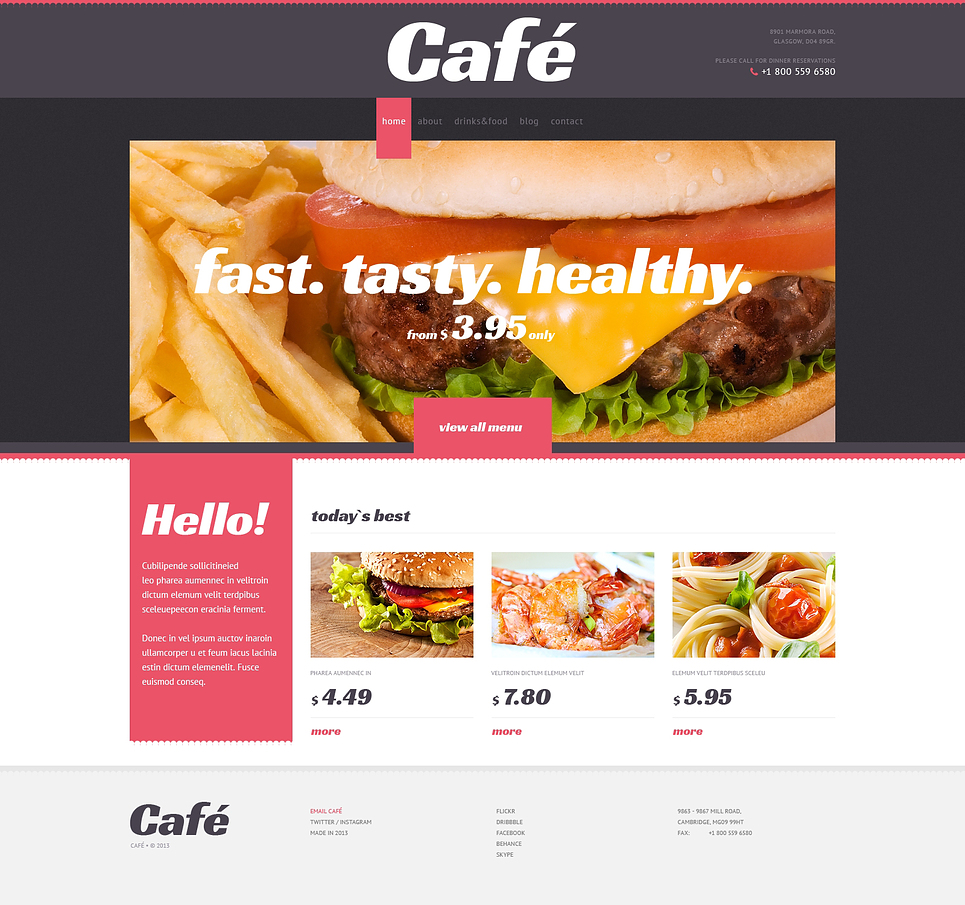 Coffee Lounge by ThemeFuse
Starting today, your coffee shop, bar or bistro website will leave your visitors craving for your tasty and delicious offerings.
Dessert by SiloCreativo
Dessert is a responsive theme for bakeries, dessert cafes, cupcakeries, and pastry chefs working out of their homes. The template automatically adapts to window resolution and looks perfect on all devices! It's light, fun with a touch of whimsy, yet professional.
Elite by Organized Themes
Elite is a feature-packed, visually exciting theme for your store or business. Here's a brief rundown of the great features included. Full Screen+ Site Amazing full-screen images, galleries and videos. Scroll past the full-screen media for a feature rich, more conventional WordPress site. Optional titles, captions and buttons for every hero image. Responsive Design.

Espressionista by One Designs
If you're like us then you like to write while enjoying a good cup of coffee. Inspired by that feeling we have created a WordPress theme for bloggers who love to write. There's not much fancy about this theme but carefully chosen typography and a pleasant color scheme so your readers can sit back and enjoy your content
Felizio by Cowboy
A black background of this template beneficially outlines brightness of yellow design elements. The high resolution images of delicious food would definitely make a good investment into attractiveness of your café. The content area includes illustrated menu, which would help your clients choose what they want and make the interaction with customers easier.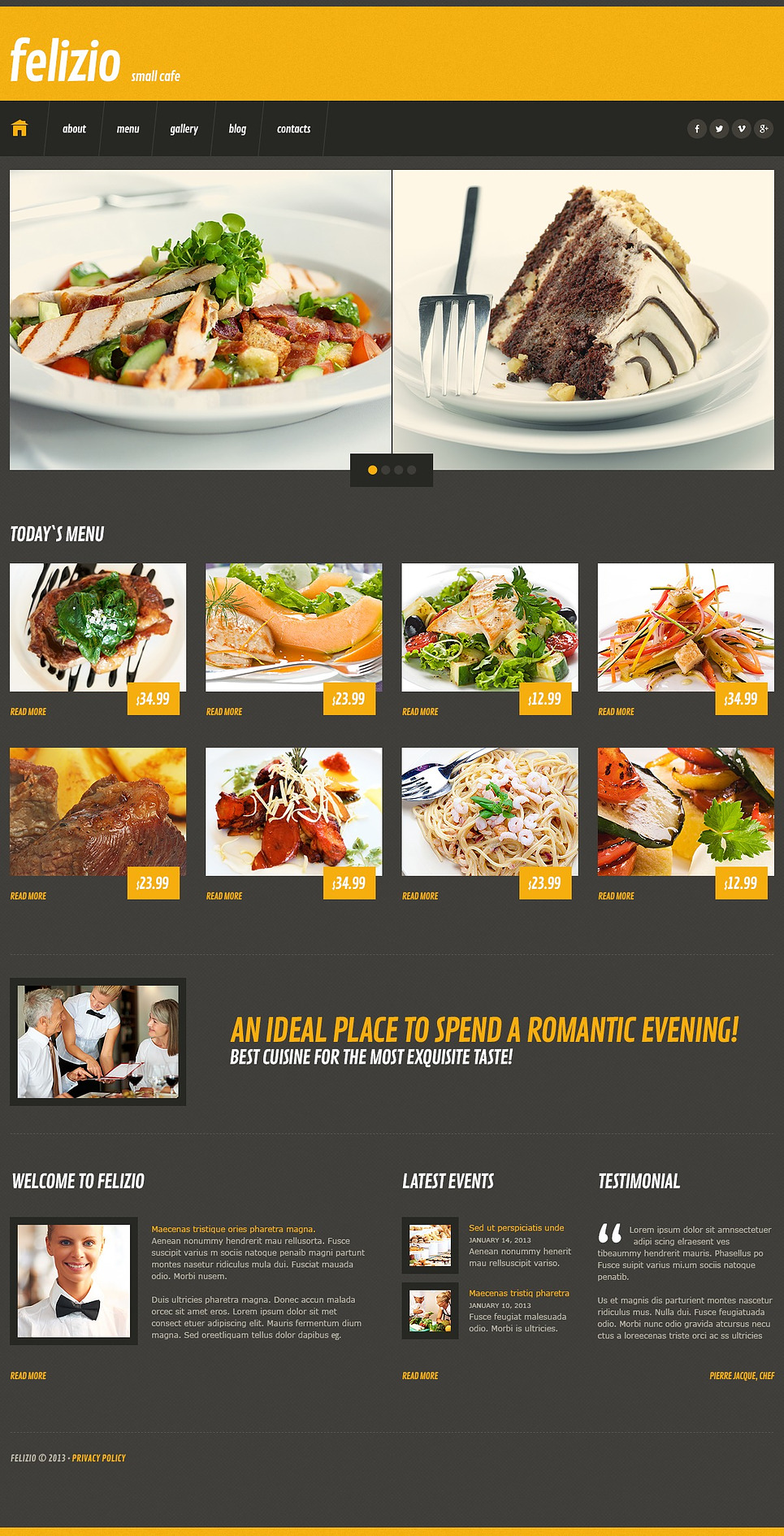 Guurmet by Delta
The sliding illustrations with delicious food would immediately awaken visitors' appetite – high resolution of the pics demonstrates the extra realistic look. The combination of black and orange elements and white background makes the design light and positive. The content area is developed specially for a comfortable presentation of thematic information.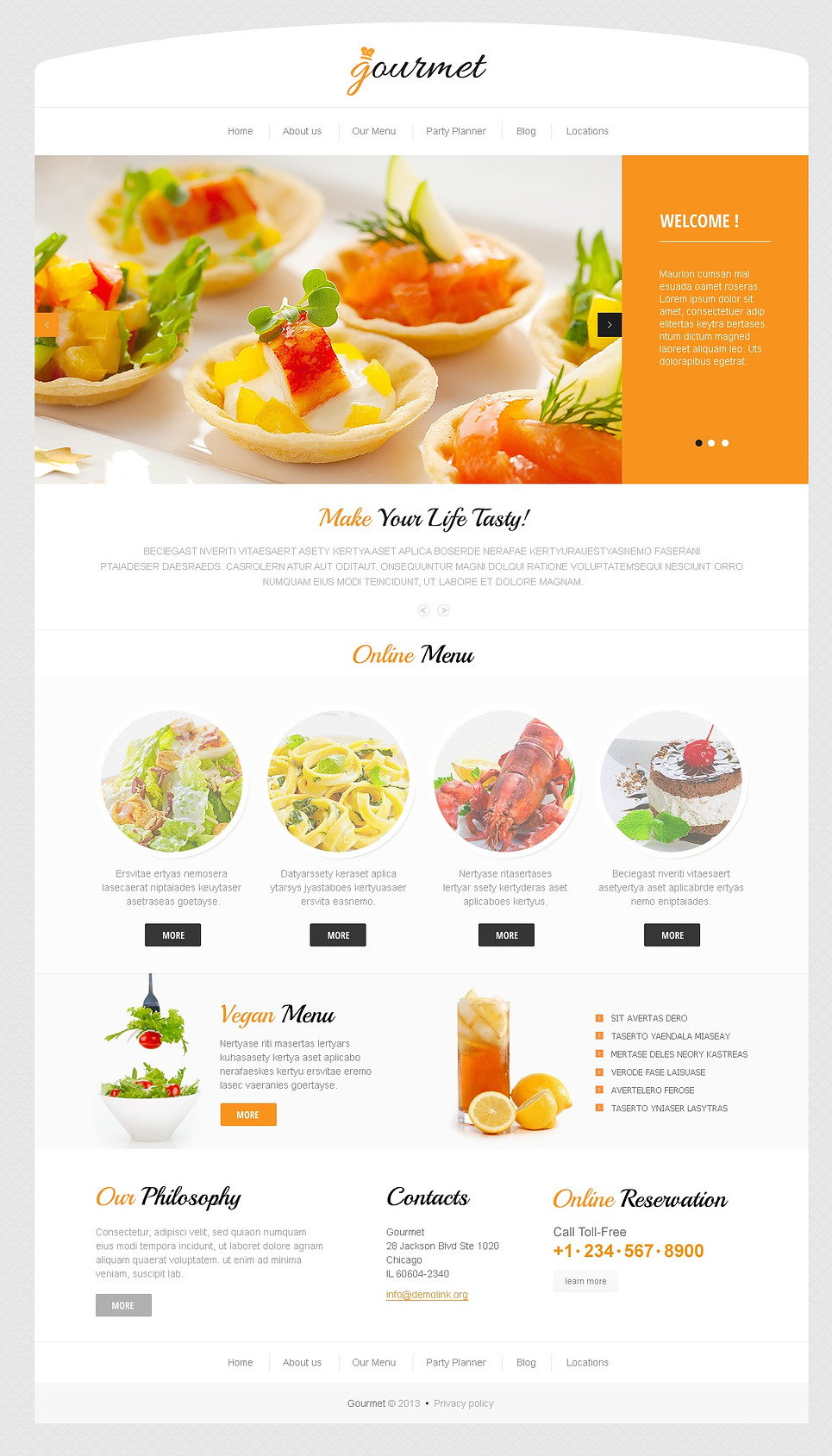 Happy Hour by iThemes
Happy Hour has a bright color scheme of fuchsia, light pink and grey with special treatment in the header displaying martini and other cocktails (or a Shirley Temple and a glass of sweet tea .. pick your poison!)
Mark Twain by Glenn
Clean theme with bright colors that is perfect for a cafe, bakery or cafe. Showcases products and images with great text placement.

Moka by Elma Studio
Clean and minimalist design that is great for a cafe seeking a basic design that displays information and content.
Morning Coffee by Adazing
Current events and a cup of coffee two things that definately go together. This 2 column design gives off the vibe of chatting about today's news over a cup of coffee. Relaxing, friendly and informative just what we all want our blogs to be!
MyCuisine by ElegantThemes
MyCuisine is delicious, offering up some eye-catching visuals wrapped in a Tuscan shell. It is a small-business theme built with Restaurants in mind, however, the theme can easily be adapted for any business that desires a cool, vintage aesthetic for the website.
Restaurant by Templatic
With strategic design and expert code, this professional theme includes everything a restaurant website will need! Use this theme to quickly create a professional presence for your culinary business.

Restaurant Owner by Nexus Theme
The Restaurant Owner WordPress theme is the obvious choice if you own an establishment where people can enjoy whatever your kitchen has to offer. It has everything you expect from a WordPress theme designed to support this specific branche. With an online reservation form, social media integration, a menu section and a beautiful fullscreen slider and much more. Your website is your online window to visitors looking for a romantic dinner or a refreshing lunch. Be sure to make the right first impression with the Restaurant Owner WordPress theme.
Restaurante by Templatic
Restaurante is a beautifully designed restaurant WordPress theme with advanced booking features allowing you to not only showcase your restaurant, but also accept reservations. The theme is powered by our advanced Tevolution plugin and the Appointment add-on. Both plugins are provided for free with each Restaurante purchase.
Restro by sktthemes
Cafe and Restaurant bring along a nice flavour, as well as food for their customers. Mostly people visit cafe and or restaurants not just to eat the best food available but to enjoy some time.
Seasons by WPZoom
Seasons is an elegant WordPress theme with a layout and features that perfectly suits for restaurants, bars, cafe's and other businesses from the food related industry.
Service by Aloha Themes
Ideal for: Doctors, lawyers, consultants, construction, home repairs, A/C & heating, electricians, plumbers, roofers, caterers, restaurants, carpet cleaners, child care, any professional service business
Sunrise by S5 Themes
Free Responsive WordPress Theme for Pubs and Restaurants.

Vines by Cowboy
Beautiful and highly appetizing photos of the dishes are the most important part of any cafe or restaurant site. And that's the zest of this template, when you open the home page you're welcomed with a huge slider where you can place the tastiest items. Under the slider you can see the "today's menu" section where you can showcase best dishes of the day. Nearer to the footer you can find "what's new", "prices" and "welcome" sections. Along with all those delicacies and around the template you can enjoy the pleasant color scheme that reminds whipped cream.